| | |
| --- | --- |
| | is pictured above at ten months of age. She is full sister to BPISS BPIG Ch. Laureate French Laundry and Ch. Laureate Rachel Ray. She is everything we love in a Sheltie, wonderful outline , |
beautiful type and sweet temperament. She won BOB and Group 4th as a puppy for four points and then stayed home to grow up. She finished quickly as an adult and also had a Specialty major reserve. She didn't love shows, so we didn't go further to pursue her US title.
I should say something about her name...Lutèce, as I have heard many different pronunciations. We pronounce it "Loo-tess" She got her name from a restaurant list I saw. I looked up the meaning and it was also the Gallic name of the city Paris, so that is how she got her call name. It should be spelled with the accent grave over the first 'e', but I don't always type it that way...being too lazy to find the key.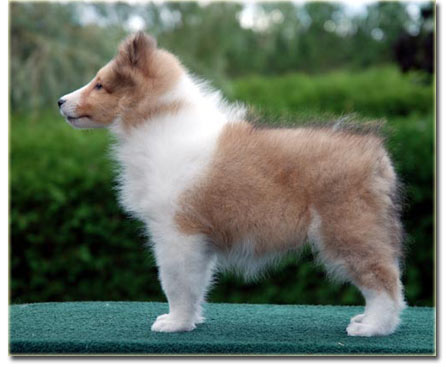 Paris at eight weeks of age.
Am. Ch. Jade Mist Beyond Tradition, ROM
Am. Ch Willow Cove's Wild Card, ROM
Willow Cove's Revelation
Ch. Laureate Landslide, ROMC
Am. Ch. Macdega Glenhart Grand Prix, ROM
Am/Can Ch. Laureate Jammin' Up The Tempo
Am/Can Ch. Krystalyn Just An Illusion, ROM/ROMC
Ch. Laureate Lutèce
Am. Ch. Macdega Tiburon, ROM
Am. Ch. Macdega Sausalito, ROM
Am. Ch. Sherando Mercedes
Laureate Tiramisu, ROMC
Am. Ch. Ozark Crest City Slicker, ROM/ROMC
BIS/BISS/BPIS Am/Can Ch. Laureate City Angel, ROMC
BISS Am/Can Ch. Laureate Gabrielle, ROMC



Copyright © 2002 - 2011 Kim Aston. All rights reserved.
All photos and artwork copyright to original artist.
Any copying, downloading or reproducing in any form is forbidden without prior written permission.