Aug 26 2022: New Canadian Champion Laureate Titanium!
Aug 14 2022: Laureate Lavania wins a 4 point major bringing her total to 11 points both majors. Thank you handler Cadie Pruss!

Aug 1, 2022: We are back from a whirlwind trip to Calgary and the glorious Spruce Meadows.
Thank you Karen Linkletter for being such an wonderful host!
Thank you Hanna Campbell for grooming up Vinnie so beautifully.
Thank you everyone who helped provide supplies and to the host club and all who worked hard on putting on this show
Lastly, thank you to the judges for awarding our 8 1/2 year old boy Best of Breed in top competition!
CSSA Regional Specialty, judge Mr Hector Hector
BEST OF BREED
MBIS/MBISS/MNBIS Am/Can GCHS Laureate Invincible ROM/ROMC
***
CSSA National Specialty, Judge Mrs Amy Massey
BEST OF BREED
MBIS/MBISS/MNBIS Am/Can GCHS Laureate Invincible ROM/ROMC
This is Vinnie's third National win, second consecutive Canadian.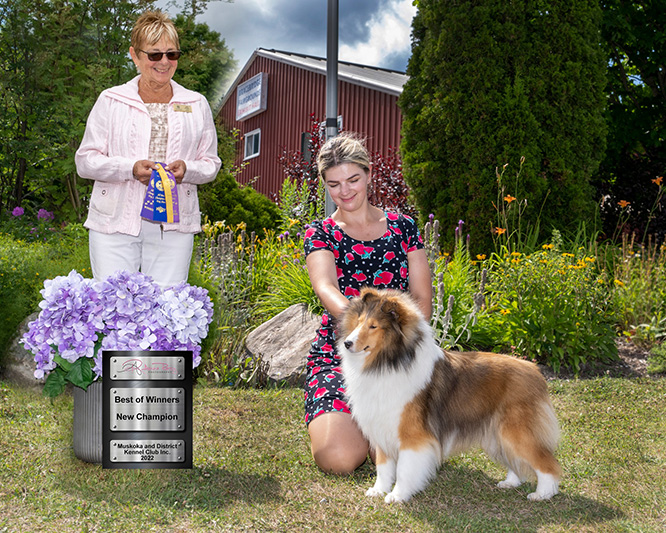 July 28, 2022: New Canadian Champion Laureate Moira Rose! "Moira" finished in two days undefeated in the classes. Thank you Sydney for your expert presentation and loving care of our sweet girl.
July 15/22:New Canadian Champion Laureate Looking Glass!
Laureate Titanium wins BPIG at the UK Breeds Specialty under breeder judge Irene Latchford. He is now up to 8 points.
Laureate Frangipane (Fancy) is up to 7 points at the Lombardy Circuit.
July 10, 2022: New Canadian Champion Laureate Simplicity! Maia finishes with a Best Puppy in Show win.Thank you Sydney for your wonderful presentation!
Diamond continues to win big...two Best in Show wins and a Reserve Best in Show bringing her up to #7 All Breed! Top Herding Group and Top Sheltie.

July 9, 2022: New American Championship for RBIS/BPIS Can Ch Laureate Meiomi! Thank you Cadie Pruss for your expert handling of our special girl. MeMe is the fourth to finish in her litter and 9th American Champion for her dam, Am/Can Ch Laureate Red Red Wine ROM/ROMC and the 35th for her sire MNBIS/MBISS/MBIS Am/Can GCHS Laureate Invincible ROM/ROMC/COH

June 2022: Diamond and Sydney continue to shine in the ring and are now ranked #1 in Herding Group, #10 All Breed.
Diamond BOS Westminster KC. Congratulations to owner Mr Kenji Shigi
At Western NY SSC, our girls won 3 US Specialty majors
Can Ch Laureate Lavania (5 point major)
Laureate Looking Glass (5 point major)
Can Ch Laureate Bernadette (4 point major)
Thank you judges and thanks to Elim Cheng and Anne Brazeau for your grooming and handling!

May 2022: New Canadian Champion Laureate Lavania!
New Canadian Champion title for Am Ch Laureate Marilyn Merlot!

April 27, 2022: BEST IN SHOW for Diamond! Thank you judge Robert Whitney and handler Sydney Robinson!

April 24, 2022: MeMe (RBIS/BPIS Ch Laureate Meiomi) wins a major in Springfield MA! We are hoping she will be American Champion #4 in her litter.

April 2, 2022: Two American Champions!
In Syracuse NY, Phred wins Group 1st and then WD, BW the following day to complete his American Championship. He's now known as Am/Can Ch Velvetfog Laureate Freestyle. Co-owned and co-bred by Anne Brazeau, Velvetfog Shelties.
Can Ch Laureate Hopscotch picks up her last points for her American title under judge Jim Reynolds. Thank you Sydney Robinson for your presentation this weekend and Pete for handling her to ten points and both majors.



March 2022
Laureate at the American Shetland Sheepdog Association
National Specialty
We are honoured to receive the award for both Top Sire and Top Dam for 2021 from the ASSA!
This isn't an easy achievement in a regular year, let alone one where the border was closed. Thank you all who finished Vinnie's offpring and thank you Pete and Sydney for your hard work and dedication!

MBISS Am/Can GCh Laureate Diamond Is Forever
Owned by Kenji Shigi
What a thrill to be able to participate with two girls in this year's Top Twenty showcase. Thank you fellow breeders/exhibitors for voting Diamond Runner-Up People's Choice winner! Thank you Sydney Robinson for your beautiful presentation.


MBISS Am/Can GCh Laureate Overture AOM
Award of Merit for "Sonia" in an antry of over 120 Sheltie Specials!
Loved to see her perform so well in the big ring. Thank you fellow Shelie enthusiasts for the lovely ringside comments.
Thank you judge Jane Howard


Can Ch Velvetfog Laureate Freestyle
1st Open Sable Dog and Reserve Winners Dog!
"Phred" is co-bred and co-owned by Anne Brazeau
He is by MBISS Am/Can Ch Laureate Insignia AOM x Ch Velvetfog Laureate Solo Act
Thank you judge Rick Thompson for this honor.